Letter to the Editor: Sophomore Uma Kumar-Montei's Perspective on the Dress Code Fiasco Last Week
Hang on for a minute...we're trying to find some more stories you might like.
On Monday, May 27th, I walked into Spanish class and my teacher immediately had a problem with the dress I was wearing. She said that it was "inappropriate" because you could see my shoulders and bra straps. I stated why I didn't think it was a problem, and in response she sent me to the office so administration could deal with me.
I explained to an administrator and a counselor the reasons that I believe the dress code is unacceptable, but they still enforced it by requiring me to wear an oversized black t-shirt over my dress the entire day. I was really hot and uncomfortable and I looked really stupid.
Because the dress code disagrees with my beliefs, this situation frustrated me and led me to tweet the reasons why I oppose it. I received overwhelming support and attention from not only the Edina High School student body, but students from other cities and states, EHS alumni, and various teachers. Listed below are my reasons for opposing the school's dress code.
1) It took me a while to be able to be comfortable enough with my body so that I could wear things that weren't baggy sweatshirts and sweatpants. Body image is a huge issue that affects so many young women, especially in Edina, where perfection is the norm. Instead of teaching the young women who struggle with body image to be proud of the thing that's impossibly hard for them to accept, dress codes teach them to cover their bodies because they're "distracting".
2) It's literally my shoulder… if you're sexualizing a 15-year-old girl's shoulder, then YOU are the problem. I can't think of one guy who would walk by a girl and say "Dude, check out that girl's shoulder!" And I'm pretty sure the huge t-shirt I was wearing over my dress was more distracting than the dress itself.
3) It shouldn't be surprising to anyone that I'm wearing a bra. That's usually what girls wear. I don't really understand why being able to see my bra strap suddenly turns an outfit "immodest" and "inappropriate"
4) When you pull me out of class to change, you are telling me that hiding my body is more important than my education. You're telling me that making sure boys have a "distraction free" learning environment is more important than my education. You're telling young women that BOYS ARE SOMEHOW MORE ENTITLED TO AN EDUCATION THAN THEY ARE! This perpetuates modern sexism to a great extreme.
5) Men are never told that their human body parts are a distraction. They're treated as HUMANS and not sexual exploits.
6) Saying that "boys will be boys" and that it's somehow my responsibility to make sure they can control themselves does nothing but perpetuate rape culture. By blaming a woman for a man's attention, you're blaming the victim  and that's not okay. Just because you can see my bra strap does NOT mean I'm asking for any attention or sexual advances.
7) I should be able to present myself however I want to. If people judge me, that's their problem, but I have the freedom to be able to choose what I want to wear, especially in a public school system that encourages people to express themselves and challenge the status quo.
8) By shaming my human body parts, you're treating me as purely a sexual object. Dress coding me reduces my value to my appearance, and that perpetuates modern sexism to a great degree.
Letter to the Editor: What's the Deal with Israeli Elections?
Hang on for a minute...we're trying to find some more stories you might like.
Over the last few months I've noticed that Israeli elections and the conflict in the Middle East have been appearing in the news with increasing frequency, and sadly, the coverage isn't always accurate, in-depth or unbiased. So, Edina, let's talk: what's the deal with Israeli elections?
As many of you know, over the summer there was a war between the Israel Defense Forces and Hamas, a Palestinian organization with a militant terrorist wing. The conflict, also known as Operation Protective Edge, ended in late August when Hamas agreed to abide by a final ceasefire. In addition to facing threats from Gaza and the West Bank, Israel also faces security concerns from neighboring Iran and terrorist groups such as ISIS and Hezbollah. It was clear that security remained on the forefront of Israeli thought, when Prime Minister Bibi Netanyahu's Likud party was re-elected in the March 17th parliamentary elections. By choosing the Likud party, Israeli citizens emphasized the importance of security and defense rather than internal and economic improvements.
It's important to understand the differences between a parliamentary system such as Israel's and a presidential system such as ours. In Israel's parliamentary system, parties compete for the 120 seats in the Knesset, Israel's governing body. Since there are vastly more parties for voters to choose from, the parties that win seats must form a coalition in order to hold a simple majority (61 seats) in the Knesset. Many American Jews are concerned by the success of Netanyahu's conservative Likud party in the elections, however it's important to note that they won only 23% of the vote, meaning that they will need to form a coalition with centrist and left-wing politicians (such as those in Isaac Herzog's Zionist Union party), as well as the growing Arab parties in order to achieve a majority and become, once again, the governing party of Israel. As the leader of the Likud party, it is Prime Minister Netanyahu's job to reach out to other party leaders and organize the coalition. If he is unable to do so, Israeli President Reuven Rivlin will be in charge of appointing the next Prime Minister.
While concerns that Likud's apparent retention of power could slow efforts to find a sustainable solution for the Middle East conflict are valid, the coalition system will force Prime Minister Netanyahu to reach across the aisle and listen to other, more diverse perspectives. No matter what your beliefs on the Middle East mess are, it's important to have an accurate understanding of Israel's election process. Armed with this knowledge, you can make a more informed decision on how best to advocate for peace in the Middle East.
Letter to the Editor: Convergence Insufficiency Impacting Learning
Hang on for a minute...we're trying to find some more stories you might like.
I am a retired high school teacher who recently earned K-12 reading certification, and became baffled this summer while attempting to assess an 11-year old girl's reading issues. It turned out that she had convergence insufficiency. I want to share with you some critical information I have learned about children's vision and reading, and ask for your help.
Fully 25% of children in kindergarten through sixth grade have vision problems severe enough to impact learning. Some of those problems are caught during routine vision screenings at school or in the doctor's office. Most remain undiagnosed. According to the College of Optometrists in Vision Development, "Approximately 20% of the population has not developed adequate visual skills needed to function properly, especially when viewing small objects up close as required when reading print."
Because the symptoms of uncorrected vision problems can look like Attention Deficit Hyperactive Disorder, some students are referred for special education. However, vision problems cannot be corrected through special education techniques. Others struggle along, falling behind their peers, often turning off to reading entirely. Because students believe they see the way everyone else does, they don't report a vision problem to parents or teachers.
Mary McMains, O.D., M.Ed., F.C.O.V.D., wrote for Parents Active for Vision Education, "According to the California Department of Youth Authority, 70% of juvenile delinquents tested have vision problems affecting learning. When optometric vision therapy was performed on incarcerated youths, recidivism reduced from 45% to 16% at the Regional Youth Education Facility in San Bernardino, CA." A Folsom Prison study found that 90% of prison inmates cannot read due to vision skills deficits.
Generally speaking, pediatricians and optometrists are not prepared to screen for these lesser known but widely experienced vision conditions. It takes a pediatric ophthalmologist or developmental optometrist to test for them and provide the therapy.
In 2013, when I earned K-12 Reading certification to become a reading specialist, the issue was never raised in the coursework. This reality affects me because recently I was embarrassed by not knowing how to address an 11-year-old private client's reading problems differently from what already had been tried by her third, fourth, and fifth grade teachers. I am saddened, too, by the number of students I encountered who did not read for pleasure during my 33-year career as a high school English teacher, and surmise that many of them may have had unaddressed vision issues. I knew nothing about Congruence Insufficiency, Visual Motor Integration, Binocularity, and a host of other visual skills and deficits that affect reading. An informal survey of my former English department co-workers indicates I am not alone.
Imagine if 15-20% of women had breast cancer, but we didn't screen for it. Unthinkable! Yet we let vast numbers of students turn off from reading, and struggle in school because information has not reached the right people to make a difference.
I am asking you to use your position as editors of Zephyrus to address the situation: educate students about the issue of undiagnosed vision problems. Encourage students to have their own vision checked by a developmental optometrist if they find reading tiring or uncomfortable, but they have been told they do not need glasses. Better yet, sign up for Mayo Clinic's clinical trial on the most effective vision therapy for convergence insufficiency. Closing the "vision gap" may go a long way toward closing the reading/achievement gap.
Feel free to contact me about my ongoing effort to bring diagnosis and online therapy to Minnesota schools.
Sincerely,
Judy Layzell
Letter to the Editor: Urban Outfitters Sends Wrong Messages
Hang on for a minute...we're trying to find some more stories you might like.
Dear Zephyrus,
As a former shopper of Urban Outfitters, I was very disappointed when I heard about certain clothing Urban Outfitters was making. There was a Buzzfeed article about the top 26 items that were big "fails" by Urban Outfitters. The store designed, and sold clothing that promoted anorexia, mocked depression, slut shamed, displayed religious stereotyping, and made a sweatshirt that almost glorified the unfortunate shooting at Kent State in 1970. Knowing many people from Edina who shop here, I think it's important to let the consumers know what they are supporting when they purchase clothing or accessories from the store.
As a teenager in today's society, I think it's important that we do not buy into this brand that sends messages that a lot of people struggle with and making clothing to represent it. Depression isn't a joke, neither is the KKK, or drug use. Word needs to be spread that this clothing isn't okay, and that though other clothes there may be "hipster" or "trendy", clothing that is offensive shouldn't be bought. We are starting to see celebrity support, with the help of Sophia Bush, but I think this issue should be something the students of Edina should know, and hopefully it will make them reconsider where they put their money.
Here are some links about the issue:
http://time.com/money/3377906/urban-outfitters-kent-state-sweatshirt/
This link brings up the idea that maybe Urban Outfitters creates problematic clothing to spark publicity. Even if this is true I think it is important to argue that there are other ways to advertise than to create offensive clothing.
https://www.dosomething.org/blog/celebsgonegood/sophia-bush-blasts-urban-outfitters
http://www.buzzfeed.com/christianzamora/times-urban-outfitters-failed-so-hard-it-just-failed#2h8c04s
Please take a look at these, and please consider publishing an article to get the word out about this societal issue. Thank you!
-Bethany Aydinalp, junior, Edina High School
A Response to "Papal Celebrations"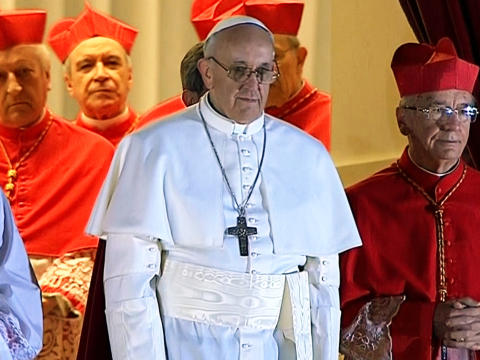 Hang on for a minute...we're trying to find some more stories you might like.
Dear Editor-
April 2013's issue of Zephyrus contained an article called, "Edinans have high hopes for new Pope Francis I".
I disagree. I am from Edina, I am gay and I do not have high hopes for Pope Francis I's time in the Papacy. The idea that Edinans are approving of the new pope is quite a sweeping statement that, for me, borders on offensive.
You see, from my perspective, the reason why the Catholic Church's membership is declining because of its positions on social issues. A pope with a new perspective that addresses poverty is not going to change anything (in my opinion) because it isn't addressing the core issues that are facing the Catholic Church- Homophobia as well as other social issues. However, I am going to focus on homophobia so those other issues are another story.
Your omission of Pope Francis I's inflammatory statements about homosexuals while saying that Edinans are in support of him is upsetting to me. In your article, you never interviewed any gay students, which makes the story seem one sided to the point of being offensive, at least in my opinion. The perspective of gay Edinans (We do exist, by the way) is going to be different from the perspective you described in the article. Saying that Edinans approve of Pope Francis I implies that ALL Edinans approve of him- Which is untrue, as many of us are personally affected by his homophobic statements.
Why would I have high hopes for a man who believes that I am a pervert who is going against God's plan and will be going to hell? Because that, from what I have read, is rhetoric that is very common, if not universal, among high ranking Catholics. Pope Francis seems to strongly agree with that rhetoric.
Thanks for taking the time to read this.
Sincerely,
Senior Johnny Ralph Horstman
PS: Please do not take this letter personally. You guys do a great job of creating every issue of Zephyrus and I have nothing but respect for you guys. I am not accusing anyone of Zephyrus of being homophobic, I am simply commenting on the article that made its way into the front page of Zephyrus. It ignores Pope Francis I's homophobia and thus seems, to me, to be an implicit endorsement of the Pope's anti-gay statements. I know that it wasn't intentional, though, so I am not judging the writer of the article. I just wanted you all to know how I feel, as an Edinan, about it.
Vote NOvember
Hang on for a minute...we're trying to find some more stories you might like.
The voter ID and marriage amendments are quite possibly two things in this upcoming election that you've heard about as much, or almost as much, as the presidential candidates. Extensive campaigning has been taking place all over Minnesota ever since the decision to include the amendments in the November ballot was announced, especially after similar amendments have been battled out in other states with conservative victories.
Here's a quick recap on the amendments and what they would entail if passed: the constitution of Minnesota would be amended so that 1) a government-issued ID would be required in order to vote, and 2) marriage would be defined as between one man and one woman. Both of them are highly restrictive to our freedoms.
The voter ID amendment appears to be one on which people have less of a set opinion, so let's take care of that one first. The concept of the voter ID amendment seems very simple. Proponents' main arguments allege that the voter ID amendment would at least reduce and at most completely eliminate voter fraud.
The voter ID amendment is addressing a non-existent issue. A survey of cases of voter fraud from the Minnesota County Attorneys Office conducted by two non-partisan organizations found that 0.0009% of 2008 voters were convicted of fraud. Even if proponents argue that this percentage should be brought down to zero, there are consequences we must be prepared to face if the amendment is passed.
This amendment would effectively end same-day registration and vouching. It would disproportionately disenfranchise a few select demographic groups of otherwise eligible voters. Senior citizens, college students, low-income families, individuals with disabilities, naturalized citizens and other racial minorities would be disenfranchised by the voter ID requirement. As opposed to how innocuous an amendment it appears to be at first, there are several steps that would need to be taken to procure a government-issued ID. Birth certificates are one; however, they are sometimes difficult to obtain for senior citizens and naturalized citizens, and if lost, they're expensive to replace, a hurdle for low-income families. Many younger people who have recently moved or married don't have government-issued IDs with their current addresses or names. According to the League of Women Voters, which opposes the amendment, as many as 18 percent of citizens ages 18-24 could be disenfranchised under this legislation.
Though the voter ID amendment appears to make perfect sense at first glance, it contains many pitfalls that aren't so obvious. It's not worth it to take away the right to vote for over 18 percent of Minnesota's population to prevent cases of largely non-existent voter fraud.
The second amendment, the marriage amendment, is much more divisive and emotionally-charged issue than the voter ID amendment. It affects the lives of same-sex couples to an enormous extent; in fact, it affects me in a very personal way. It might affect you in a very personal way as well—and if not you, then it might affect one of or many of your friends, whether you know it or not.
Many proponents of the marriage amendment want to support their religion, and this is a topic that strikes very close to home, and I understand that, so I will do my best in the following portion of the article to respect those views, whilst making my case against the marriage amendment.
Just as a foreword: same-sex couples are not looking to tear down the very foundations our society is set upon. Same-sex couples are not looking to create Satanic cults, make everyone else gay-marry, or even redefine marriage for everybody. Our gay agenda consists mostly of trying not to oversleep and finishing homework before two A.M.
Now, this may seem obvious, but the reason I have decided to point this out is because there seems to be this perception that the moment gays and lesbians are allowed to marry their partners, there will be some drastic shift in the cosmic forces that somehow monumentally sets up a whole new set of morals for society.
That won't happen. In fact, even if the marriage amendment is defeated in November, same-sex couples won't be allowed to marry, so that's not really even a talking point yet!
Something that most people seem to miss is that same-sex marriage is already illegal in Minnesota. The amendment would just add it into the constitution, which would be even more difficult to repeal when the time comes around when we want to start fighting for the right to marry. Right now, what we're fighting for is just for same-sex marriage not to be banned in the Constitution. You can rest assured that even if you're religious or a lover of traditional marriage, your voting "no" wouldn't make same-sex marriage legal overnight.
How sure are you that you should stick to your religion in regards to gay rights? Keep in mind that your life doesn't revolve around religion. You probably don't go around thinking "oh man would Jesus approve if I nab a piece of candy from my friend?" You'd probably just take it, right?
So your life isn't constantly weighed on a religious scale; however, a same-sex couple's would be if the marriage amendment passes. Marriage actually grants many federal benefits to married couples, to which same-sex couples aren't privy. Some of these benefits do affect their lives to incredible levels, such as visitation rights in hospitals or creating a joint life insurance trust. Should the lives of same-sex couples be weighed completely based on your religion, even when they may not share it? If you cannot provide a definitive answer of "yes," perhaps you should consider voting "no" or abstaining from voting on the marriage amendment. Remember that if it is defeated, it doesn't mean that same-sex marriage is legalized, it's just one less obstacle that supporters of legalizing same-sex have to face.
I want to emphasize for both of these amendments, that who they target isn't a grey mass that wants to destroy society. They both have far-reaching consequences for actual people that influence each and every one of our lives. I don't want you to imagine faceless outlines of people with ill intent who will permanently be put in their place by passing these amendments. I want you to imagine people just like me, you, your friends and family, some of which will have to go through unnecessary struggles to exercise their voice in government, some of which will have to fight harder for permission—yes, permission—to love who they do.
If you have a friend who is a naturalized citizen of the United States, or a grand-parent who doesn't have a birth certificate, then I want you to think about them when you're at the ballot box this November. Would you tell them that they shouldn't be allowed to vote?
If you have a friend or friends who are gay or lesbian, or if you know me, then I want you to think about their faces or mine when you're at the ballot box this November. Would you tell them or tell me that we shouldn't be allowed to marry who we love?
Many people might have their rights infringed upon this November over non-issues, but these amendments don't have to pass. Go vote this November, and vote "no." Minnesota isn't a state that promotes this type of oppressive legislation, and we should let the nation know.
(I know that I've only covered maybe 0.0009% of the arguments used for and against both amendments, so I would love to be contacted if there are further questions or even if people would just like to discuss! – [email protected])
Mr. Kurtz's response
Hang on for a minute...we're trying to find some more stories you might like.
Hi sophomore class,
This is Mr. Kurtz. It is Friday night at 1am. I have been wondering how to approach our discussion on Monday. I mentioned during our time together on Friday that what I shared with you would keep me up tonight. I was wrong. It is what some of you said on a discussion forum that is keeping me up tonight.
Yes, what I shared with you on Friday was personal. Extremely personal. And it was painful for me to share that. So, so, so painful.
But surprisingly, what was infinitely more painful was watching your reactions and posts on the chat room.
For all the comments directed at me– I enjoyed them. Believe it or not, your witty and original comments tend not to phase me. Thanks to people exactly like yourself when I was a 10th grade student, I have developed a callused outer layer.
For those students who were targeted during our time on Friday: targeted with hate speech, sexist comments, profanity, and general filth: I am not worried about you at all. The students at Edina High School who are singled out, ridiculed, teased and bullied are unfailingly the brightest, strongest and most courageous people I know. You will move on from this experience because you know that you are better than any of it.
For those students who tried to police and clean up what was happening on the forum– I felt pain for you. I saw the frustration, helplessness and embarrassment in your posts as you sought to make things right. You gave it your all, and I thank you from the bottom of my heart. However, there were frighteningly few of you. We have nearly 700 sophomores at EHS. How would our perception of Friday's events have changed if the whispers of the few well-intentioned were instead a unified voice of the sophomore class? I felt pain that there were so few of these whispers voiced on the forum when I know so many of you were disgusted by what happened.
What I found most painful about Friday was reading those of you who were posting disgusting thoughts on the forum. I worry for you. I worry for your own confidence, your own sense of morality, ethics and general ability to exist as a decent human being.
During my speech, I mentioned the feeling of suffocation, isolation, and hopelessness I felt as a 10th grade student. Looking at the discussion forum, I truly believe that all of you who were behaving in a horrific fashion online feel this as well on a very deep level. About yourself.
I do not want these negative feelings to begin to define-or perhaps continue to define-you. I am worried for you. I am scared. It is those of you who behaved most poorly that I care most about.
One of the subliminal goals of my presentation of Friday was to have each student begin to see the "dots" of the passion project, and connect those dots as they relate to whatever you may choose. When you connect those dots, a perfect mirror of who you are-inside and out-emerges.
Looking at everything that went on both during and after our time together on Friday, I hope you like what you see in the mirror you have made for yourself.
With deepest appreciation for making my passion project so painfully memorable for many, many members of the community,
–Mr. Kurtz
Stud Co responds to TodaysMeet event
Hang on for a minute...we're trying to find some more stories you might like.
Students and Staff of Edina High School,
This past Friday, there was a bullying incident involving the entire class of sophomores. As representatives of this class, the 10th grade members of Student Council would like to apologize to the school on behalf of our class.
During a thoughtful presentation by Mr. Kurtz describing his passion, the sophomores had the opportunity to comment and answer questions through a forum called TodaysMeet. This electronic tool is meant for the purpose of sharing ideas. Instead, the immature and rude comments and quickly got out of hand.
This event has cast a shadow over not only our class, but our school as a whole.  Again, we apologize and behalf of our class and hope that everyone learns from this incident.
Sincerely,
Edina Student Council 10th Grade Members
Andy Benjamin, Matt Crain, Colin Dobin, Laura Huepenbecker, Julie Johnson, Peter Rowland, Leah Stewart and Sia Tortorelis